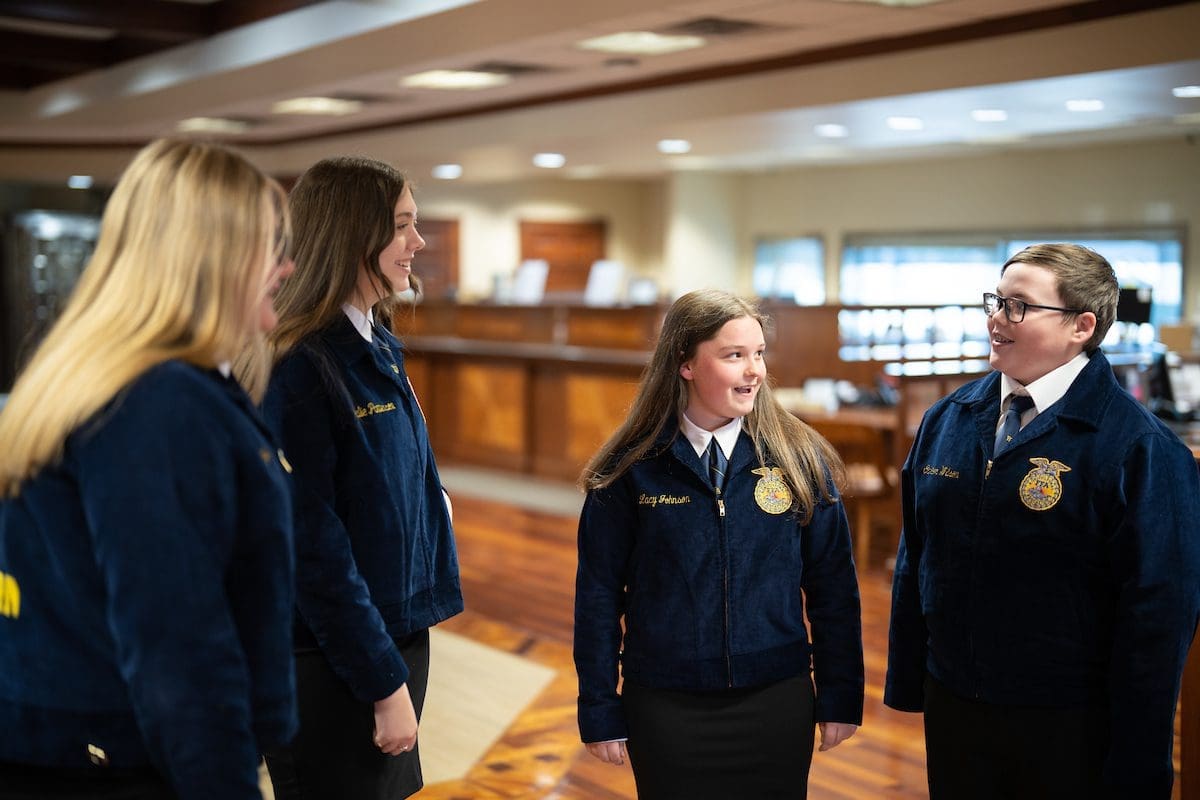 During the 2022-2023 school year, First Southern National Bank sponsored the FFA Supervised Agricultural Experience (SAE) program with $25,500, which awarded 50 students a $500 grant to invest in 51 different SAE Projects. The SAE program provides students with the opportunity to put into practice the real-life entrepreneurial skills learned in the classroom.
Harper Richey is upgrading her poultry SAE. She has one permanent coop now and is using her grant to fund two mobile coops to expand her operation.
Keegan Miller is upgrading her SAE where she makes homemade string art home decor. She currently sells her product on Facebook Marketplace and wants to use this grant money to purchase more supplies so she can start selling in local shops.
Paycen Rogers is expanding her Nigerian Dwarf Goat SAE. With this grant money she wants to buy supplies so she can expand her pasture field and raise more goats. Currently, she has nine does and two bucks.
Emma Goodwin owns two gilts and one boar. She is looking to expand her SAE into hog breeding and will be using this grant to purchase a farrowing crate and to cover vet bills and feed.
Evan Cotton will be expanding his show hog herd. Evan will be using this grant to purchase another champion quality hog to show across the state.
Morgan Butler is expanding her poultry SAE. She currently raises chickens and sells their eggs to cover the costs of necessary equipment. She will use this grant to purchase Jersey Giant Chickens to expand her project to offer egg production and learn more about raising broilers.
Rachel McClung is expanding her greenhouse operation. She purchased a greenhouse last year with her personal savings and the help of some family members. She had the goal in mind to raise plants and sell them at local farmers' markets. Unfortunately, last summer, a storm destroyed her greenhouse. With her plans to go to college soon, Rachel is using this grant to purchase equipment to raise houseplants inside her dorm room. She plans to sell these plants and use profits to continue to grow her business.
Taylor Winn is starting a new SAE project specializing in poultry production. Taylor was given an old chicken coop and will use this grant to restore the coop, water, and chickens.
Lillian Westerfield is expanding her fruit production SAE. She purchased six hundred Galletta strawberry plants last year and will use this grant to purchase a seller's permit, cartons to sell her fruit in, advertising and promotions, and pulp trays.
Hope Saylor is expanding her Monarch Butterfly habitat and spreading awareness around her community by discussing the importance of the environmental impact of Monarchs and teaching others how to build their own habitat garden. She will use this grant to purchase a more stable environment for the butterflies. She will use her money toward the greenhouse, a tagging system, a planter box, and any other necessary plants and seeds needed.
Noah Branham is expanding his greenhouse operation. Unfortunately, Noah lost the greenhouse he purchased last year to strong winds where the covering was shredded, and the structure was twisted and unsalvageable. Noah will primarily use this grant to purchase materials to build a new more secure greenhouse. Any remaining funds, he plans to use toward seeds, pots, watering systems, and other materials.
Caleb Madison is wanting to start a Beef Entrepreneurship SAE Project. He currently owns one Brahman-Cross heifer and will use this grant money to assist him in purchasing a bull for breeding.
David Beardsley is pursuing a goat SAE. David will use this money to purchase fencing supplies to help start this endeavor.
Jack Bowling plans to upgrade his current lawn care business SAE. He currently uses his dad's equipment but will use this money to purchase his own weed eater and leaf blower.
Kaleana Scott will be starting a honey bee SAE project. She would like to jar the honey from her hive so this money would allow her to purchase supplies to begin this project.
Sandra Holland has two SAEs and is looking to expand both. She has her own garden she tends and would like to purchase more seeds and fertilizers to grow more vegetables. Sandra also has beef cattle and would like to use the remainder of the money to purchase vet supplies and feed.
Turk Hembree is looking to expand his poultry SAE Project. He currently has a run for his chickens but is going to use this money to finish building it.

Lilly Darr works on her family's Angus farm. After she noticed the suffering in beef prices from COVID-19 and inflation, she wanted to advocate for the beef industry and make a difference in her community. Her dad is providing her with one Angus steer for her to start. She will use this grant money to cover slaughter costs and hopes to continue her operation by using the profit to purchase her second steer.
Sarah Miller has a family garden and raises honeybees. She uses her bee production to pollinate her plants in the garden and her family's hay fields. This grant allows Sarah to purchase necessary equipment for beekeeping, such as new hives, a smoker, bee suits, and the bees. She plans to sell the honey and produce from her garden at the local farmer's market.
Bryce Bateman is going to start a SAE project making fishing lures. This money will be used to help him purchase supplies and begin marketing his product.
Clinton Corner currently works on his family's livestock operation. He would like to diversify to have his own stock so he will use this money to purchase a bottle calf.
Hagan Merrick is currently employed by Arrowhead Farms for his SAE project. He wants to use this money to purchase goats to increase his ownership and potential profitability.
Julie Patterson would like to start raising bottle calves. This grant money will help her purchase five calves to start this project. She will eventually sell the calves to other producers in the area.
Karen Bello would like to expand her poultry SAE project. She currently has one rooster and will use this grant money to buy hens and another rooster so she can eventually have eggs to sell to the community.
Karly Roy is going to upgrade her show lamb SAE project. She will be purchasing 5 lambing bottles to utilize to increase safety and efficiency with her lambs.
Katelyn Couillard plans to start an entrepreneurship SAE project making custom bandanas for dogs. This grant money will help her buy fabric, iron on letters, and other supplies needed to start selling her bandanas in the community.
Piper Bolin wants to expand her goat SAE by building a goat house with the grant money. She would eventually like to start making goat milk soap and this would give her a facility to do that.
William Cole Bryant wants to expand his SAE project by adding more cows to his herd. This grant money would allow him to buy two bottle calves to raise and put into his herd.
Carter Wilson is expanding his family's goat operation to take more ownership of his project. He is looking to start a beef production SAE where he will use this grant to purchase an Angus heifer and breed her with a local Hereford bull to specialize in calving white face, black cattle.
Lacy Johnson is pursuing a sheep and Micro Miniature Highland-Galloway cattle operation. She owns one steer and is looking to purchase materials to build a structure for the cows as she grows her operation and breed. This grant will go toward an automatic waterer, water-treated boards, gate hinges, and hex head bolts.
Levi Heist is expanding his sheep operation. He currently owns four Katahdin ewes, one Katahdin ram, and three Dorper ewes on approximately two acres of land. Levi will use this grant to purchase three additional Dorper ewes and plans to breed them to increase his herd.
Sarah Rose grew up on her family's farm, where they specialize in diversified agriculture. Sarah has taken a strong interest in cattle production and has created an SAE out of it. She recently bought one cow, one heifer, and one calve, where she bred the cow, and she will be calving soon. Sarah will use this grant to purchase another heifer to continue to grow her operation.
Audrey Cowan owns Rough Horse Ranch Training and Mustang Rehab for her SAE project where she trains horses. With this grant money she will purchase supplies such as hay and bedding so she can continue her passion of training horses.
Evy McChesney has a diversified livestock SAE. She wants to expand and purchase a show lamb so she can gain experience in this aspect of the livestock industry.
Madison Goodman raises bottle calves to sell after they have been introduced to grain. She intends on buying more calves and feed to continue giving care to these animals.
Maude Forrester plans to start a SAE where she shows livestock. Maude is planning on buying a Simmental heifer and will use these funds to assist in the purchasing costs.
Morgan Hendrick plans to continue her SAE project of showing lambs. With her grant money she will purchase another lamb, halter, and basic supplies needed for the upcoming show season.
Paige Burckhard trains and shows performance horses. She recently just bred her mare to a stud in North Carolina and wants to use this money to help with health expenses to continue producing high-quality horses.
Sammy Cowan restores lawn tractors as part of his SAE project and recently fixed up a 1970's lawn tractor from his neighbor's fence row. This started as a hobby with his dad but has now turned into a business for him. He plans to buy another lawn tractor, rebuild kit, and parts to fix up and eventually sell as his next project!
Alison Smith currently lives on a cattle farm and is launching her own SAE. She plans to start a lamb project to raise and show Dorper lambs. She is using her grant to fund the lamb, fencing, and grooming supplies.
Brookelynn Crain will be starting a puppy business. She recently bought two Havanese puppies, a male, and a female. With this grant money, she wants to start breeding those puppies and selling purebreds. The money from this grant will go toward a whelping box, ramp, heating pads, a scale, and other essential supplies needed for a litter of puppies.
Courtney Jones started showing dairy cattle for a local mentor when she learned how to take care of show cows, sportsmanship, and about animal nutrition. This grant will allow her to purchase her heifer to show and will teach her financial skills and a good work ethic.
Ellie Fields is expanding her bottle calf operation. She will use this grant to purchase either two heifers or bull calves. She has a strong passion for bottle calves, and she wishes to grow these calves up to either sell at the stockyard or continue to breed them in the future.
Jordan Upton is pursuing a horse SAE. He will use this grant will help him purchase updated supplies for his projects such as wheelbarrows, scoops, and a flashlight.
Kimber Doyle is pursuing a goat SAE. She started with one bucking goat and now has expanded to own sixteen nannies and one billy. Her SAE has come with many challenges and is using this grant to purchase necessary health equipment for her herd. She will use this grant to purchase birthing equipment, as well as, hoof treatment equipment.
Mason Fields is starting a quail business. He will use this grant to purchase materials to house the birds. He will profit from his project by selling the birds themselves and the eggs they produce.
Mason Grimes is expanding his lamb SAE. He recently purchased a lamb to care for and is looking to purchase another lamb. Mason will use this grant to purchase the lamb, a halter, feeding, and grooming supplies, and a mineral block.
Payton Flora has a show rabbit SAE. She will use this grant to purchase equipment and grooming supplies for her rabbit to take to shows. This grant will also help her purchase a stable structure to house her rabbit.
Rachel Doyle has a breeding lamb SAE. She will use this grant to purchase a lamb, breeding ewe, brushes, and shears. She will raise the lambs to breed them and continue to grow her operation.
Trent Miller operates a lawn mowing entrepreneurship. Trent will use this grant to purchase new lawn equipment and continue to grow his operation by expanding his clientele. He will also continue to put clientele relationships as his priority to provide each client with a positive experience with his business.