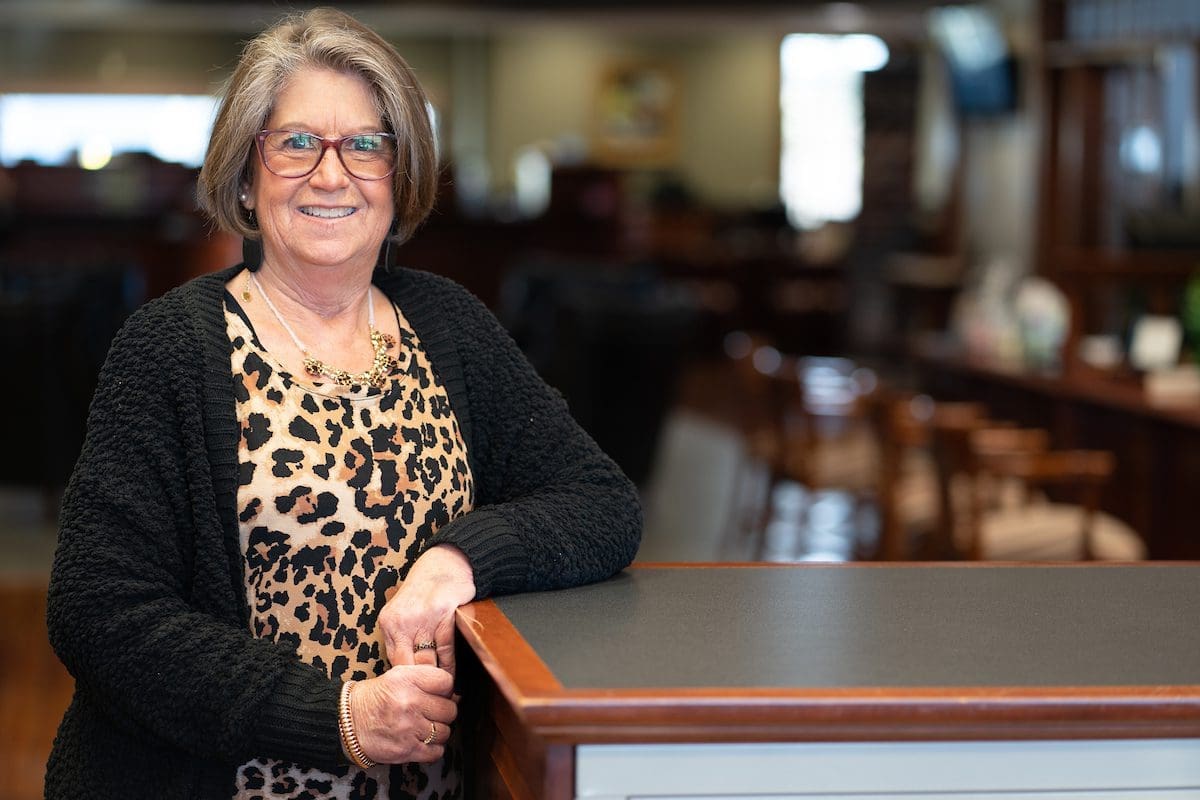 First Southern National Bank is only as strong as its team. For the last 40 years, we have been dedicated to finding team members who are collaborative, positive-thinking, and strive for excellence both personally and professionally. Because of this, we often have team members who begin their career with us and stay long enough to retire with us.
Pam Withers is one of those team members.
Pam has worked as a customer service representative and teller for the last 26 years in Madison County. Pam will officially retire from First Southern on July 12th. We wish her all the best. Before she enters the world of retirement, we want to share a little bit about Pam and who she is.
Pam, tell us a little bit about yourself…
I have been married to Bruce for 47 years. We have 2 daughters: Shelley Withers-Rue, Dana Withers-Gayheart; and 6 grandchildren: Kaleigh Reynolds (22), Carter Reynolds (16), Hadley Gayheart (18), Lucas Gayheart (14), Cannon Gayheart (11), and Britton Gayheart (9). I am originally from Somerset, Ky. We moved to Nashville, Tennessee in 1987 and stayed for 9 years. Then we moved to Richmond. We have been here for 27 years. We also have 2 dogs, Ozzy and Baxter.
Tell me about your time with First Southern and your role as a team member.
I was hired as a Teller at First Southern National Bank in 1997. All of my previous banking experience was in bookkeeping in Somerset, and I served as a IRA/CD supervisor in Nashville, but we did not have face-to-face contact. As a Teller with First Southern, it tested me in the beginning and brought me out of my comfort zone. I have truly enjoyed every team member I have worked with directly or by phone. Getting to know our customers on a personal level and knowing what they are like has been a pleasure. I will truly miss seeing these people.
What does being a team member mean to you?
Being a team member means working closely with each and every member of the First Southern team. It means doing what you can to help them out in any way possible while knowing that your team members will have your back at all times.
What is your favorite memory?
My favorite memory was when a younger employee was cleaning out a old desk and found microfiche. She held it up and looked at me and said "What in the world is this?" I told her what it was and then explained how you read it. We still laugh about it today when I see her.
What advice would you give to someone who just started working here?
Know your customers. That is the most important thing. Also, be a team player, be dependable, and be willing to make a difference!
What are your plans for retirement?

I plan on doing lots of reading, spending time with my grandchildren, and getting to enjoy their multiple activities from cheerleading to football. I also plan on taking long walks with my husband Bruce and the dogs. I look forward to spending more time with all my family.
Thank you, Pam, for dedicating the last 26 years to First Southern National Bank and its Family of Companies. We will miss you, and I know your customers at the Richmond branch will miss you as well!